This post contains affiliate links. As an Amazon Associate and member of RewardStyle, I earn from qualifying purchases. Please visit our privacy policy for details.
If you're traveling with an infant or toddler, you know that keeping them entertained can be a challenge. But don't worry – we've got you covered! This blog post will discuss the best baby toys for airplane travel.
These toys will keep your little one occupied and happy during the flight. So whether you're traveling across the country or worldwide, pack these best baby travel toys in your carry-on!
It was fun rounding up all of these toys that are great for the short attention spans of young children. Although I do not have any kids, I am a blessed Aunt to three nephews and five nieces. I wanted to research to make smart purchases for birthday gifts because my siblings love to travel with their kids.
The Best Baby Toys for Airplane Travel: Infants Through Toddlers
There are so many different baby toys on the market these days that it can be hard to know which ones are worth taking with you on a trip. If you're planning to travel by plane with your infant or toddler, here are some of the best toys to keep them entertained during the flight.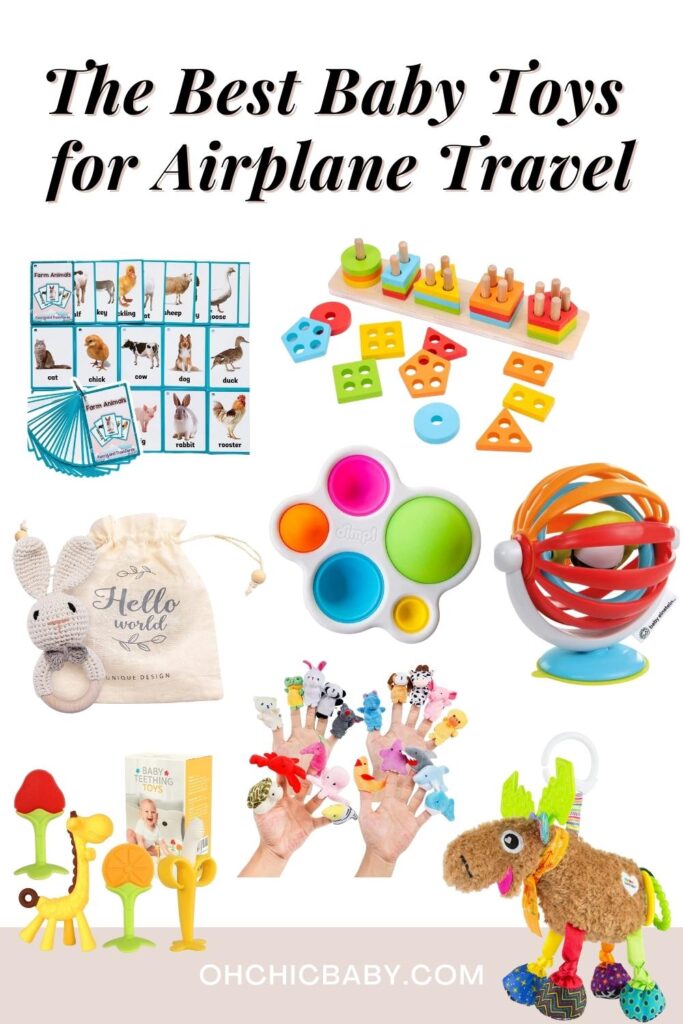 How To Choose The Best Baby Toys For Travel?
When choosing a baby toy for travel, it's essential to consider the baby's age.
Travel toys for infants should be soft and lightweight. Opt for baby toys with bright colors and loud noises (like rattles) for babies. Babies enjoy putting objects in their mouths, so make sure that any baby toy you give them is safe to chew on.
Toys for toddlers should be slightly more challenging than baby toys. Toddlers love puzzles, building blocks, and anything that involves movement. If you're looking for the best toys to keep your toddler occupied during the flight, look for something with lots of different textures and sounds. I think it is best to choose toys that do not involve screen time.
Best Travel Toys for Babies Under One
Your baby's first year is filled with many new and exciting adventures, including travel! So when planning your baby's next trip, pack these airplane toys for babies under one.
Soft Crinkle Books
Soft crinkle books are one of the greatest sensory toys for young babies. All of my nieces and nephews had these, and it was one of their favorite travel toys not only for family travel on a plane but also perfect for car rides. They can't rip out the pages or smash them against tables; they're harmless to people and other animals. They're also great for your baby's development as they help with hand-eye coordination and visual tracking. Plus, you can read them aloud to change how the baby interacts and plays with the book. You can shop for Soft Books HERE.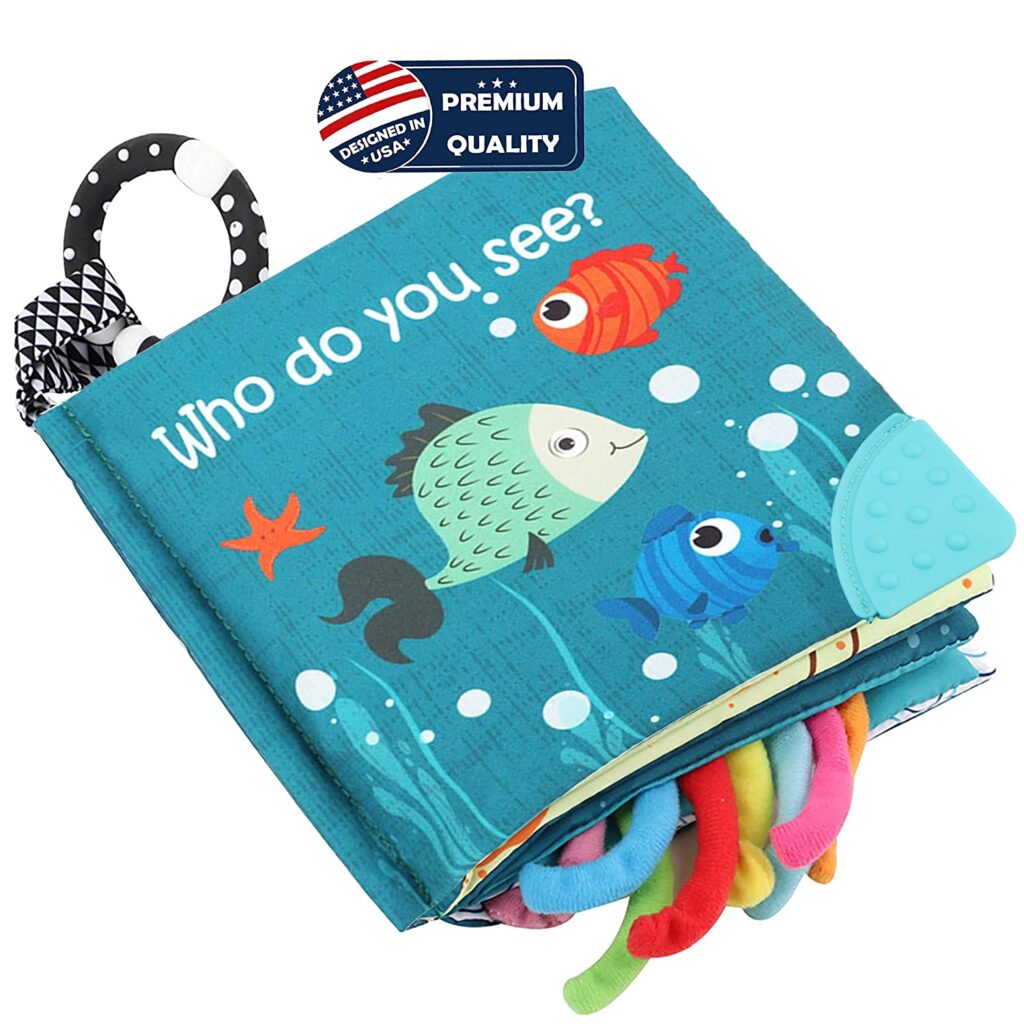 Rattles
Another baby staple, rattles are a great way to keep your baby entertained during take-off and landing when ears may be bothering them. Just try not to disturb the fellow passengers around you while keeping your baby occupied.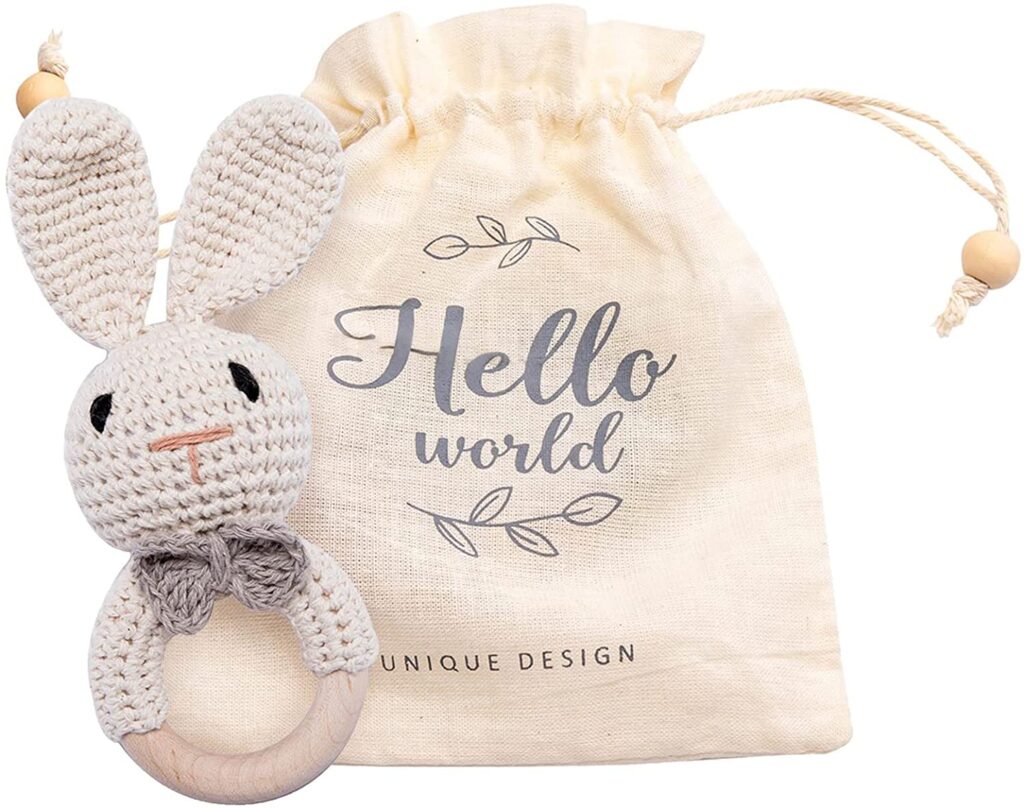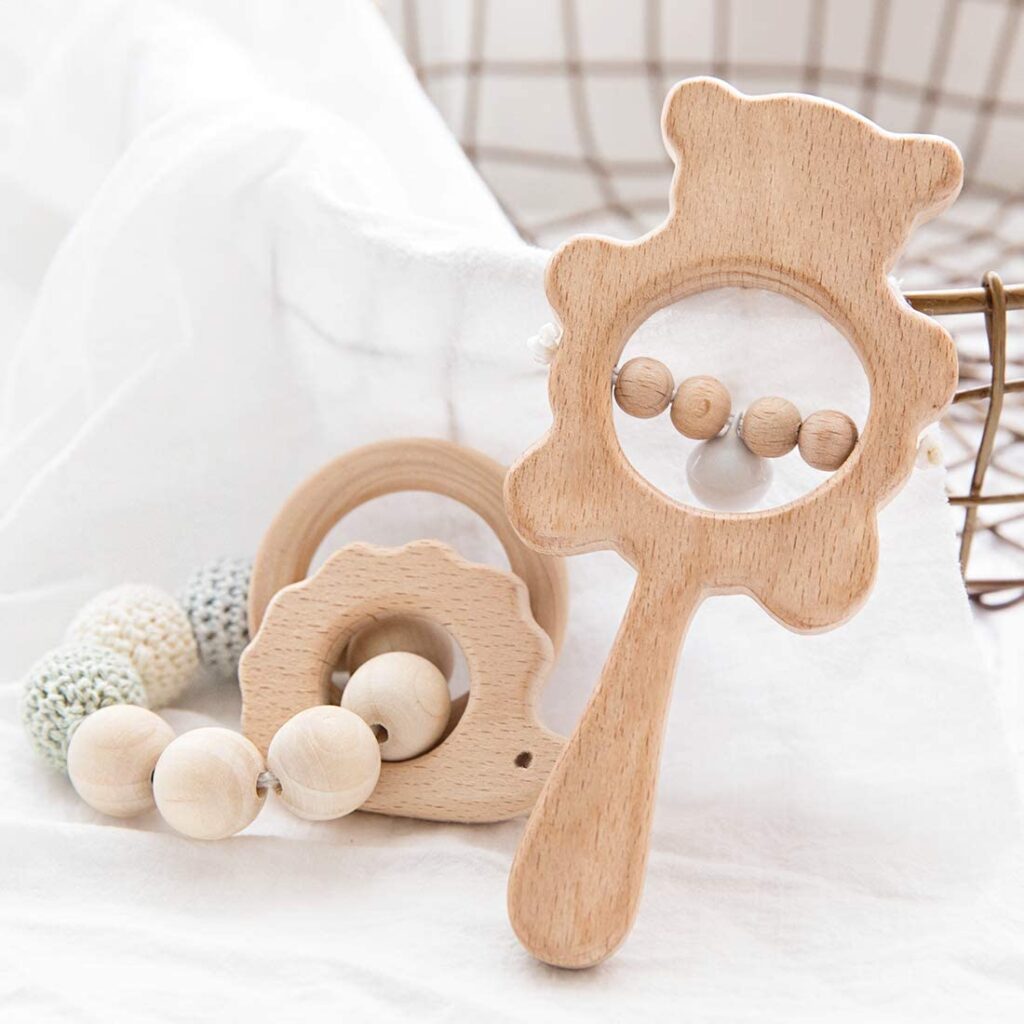 Lamaze Toys
Lamaze toys are great because they are comforting, interactive, and great for teething. They come in various shapes and colors, so your baby will never get bored and they fit perfectly in your diaper bag. Babies LOVE Lamaze toys such as TOMY Lamaze Mortimer The Moose.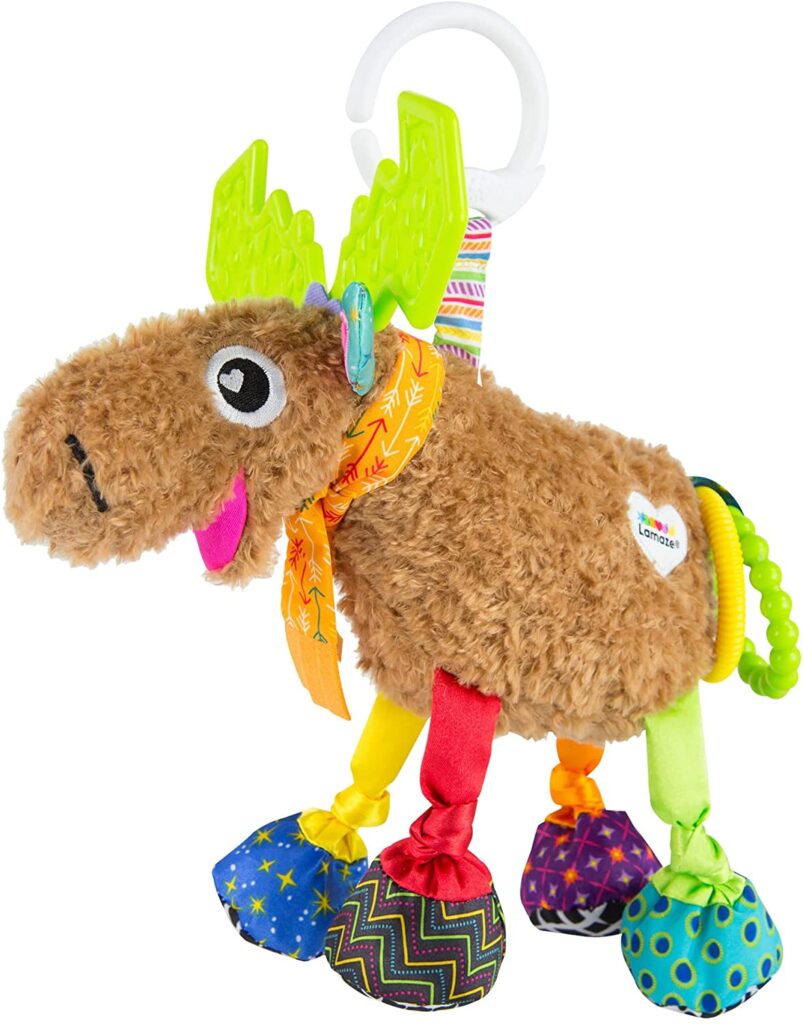 Dimpl Baby Toys
This Dimpl baby toy is a straightforward concept that babies adore. It's a plastic frame that features five brightly colored silicone bubbles. Your baby can poke and prod at these bubbles, making them change shape. The baby even learns cause-and-effect with this toy as they learn that pushing on the bubbles makes them pop out. They also learn hand-eye coordination and fine motor skills. These toys are great for a long flight or road trip. These make good travel toys because they come in different designs, can occupy multiple years of age, and are quiet toys.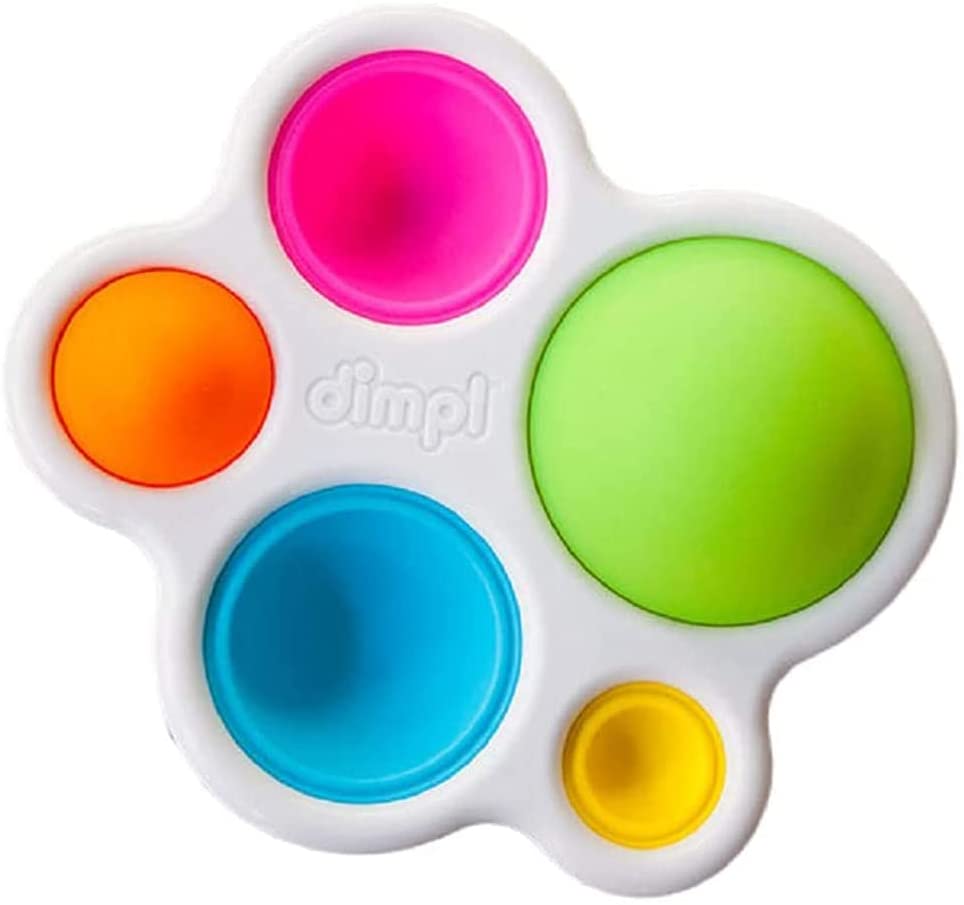 Teethers
Having a teething toy packed for your plane ride is a must-have for young children. They're easy to clean and won't take up too much space in your travel bag! Teethers are also a perfect baby toy for soothing sore gums during take-off, landing, and turbulence. This set of 4 baby teethers is ideal for airplane travel and just having at home in your baby's car seat.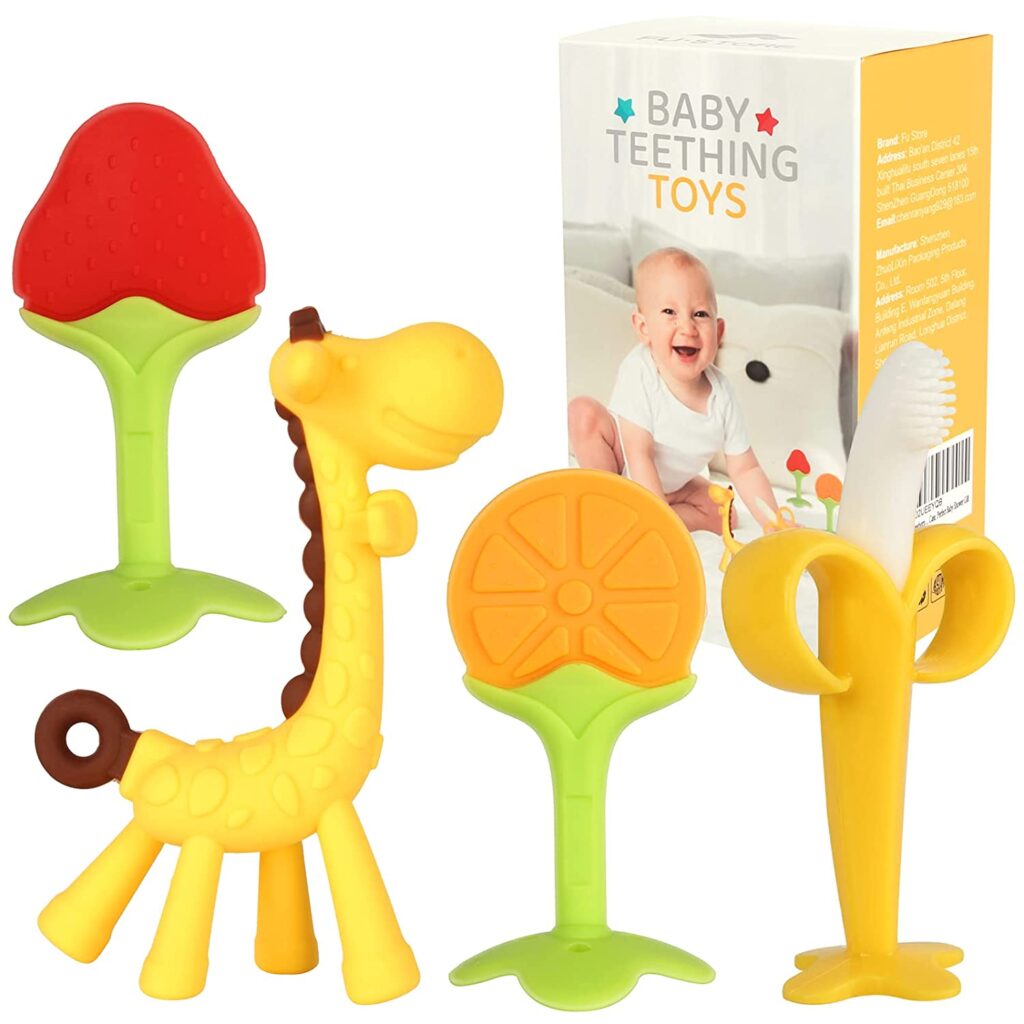 This one is great for airplanes, but they can be fun any time. Although they were created as high chair toys, toys with suction cups on the bottom make the best baby toys for airplane travel! They attach to any surface so the baby can play with them hands-free. Plus, they're small, mess-free, and lightweight, so they don't take up a lot of space in your carry-on. This is the perfect toy to keep your baby entertained for the entire flight.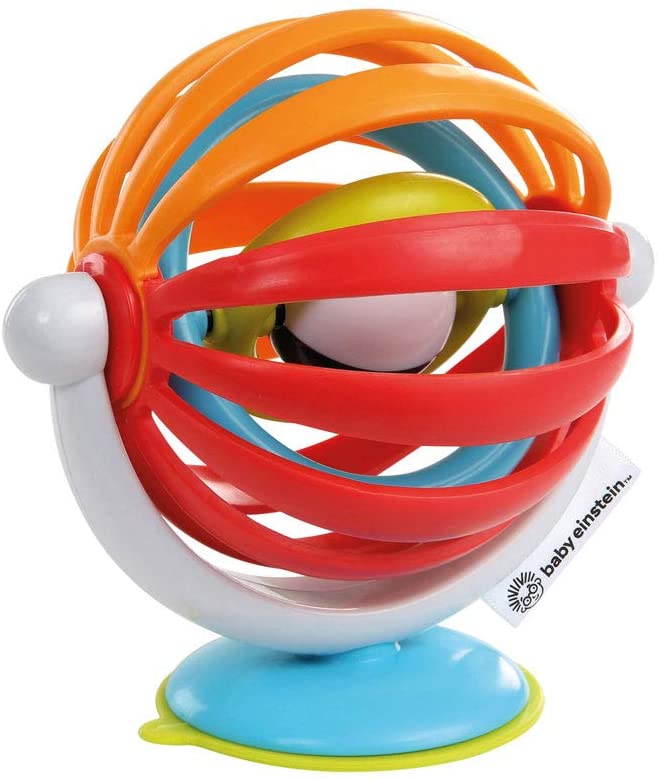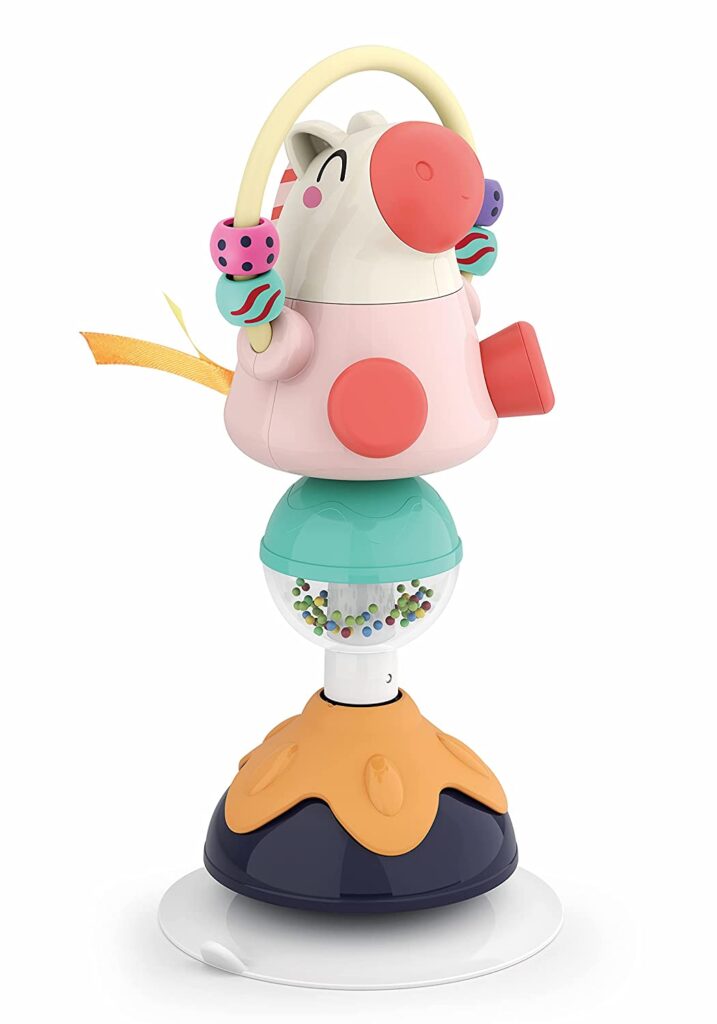 Best Toddler Travel Baby Toys (Ages 1-3)
As your baby ages, the toys you bring on a plane may need to change. For example, a baby will want more interactive baby travel toys at this age.
Look for baby travel games that involve lots of movement and action. Your baby is developing their dexterity and fine motor skills at this age, so look for baby toy cars or planes that they can play with.
Plush toy finger puppets are ideal for traveling with your children. Puppets are a fantastic method of getting your youngster interested in fun, creative play. Furthermore, finger puppets measuring about three inches long can be packed neatly in a sandwich-sized bag, making them ideal for vacationing families.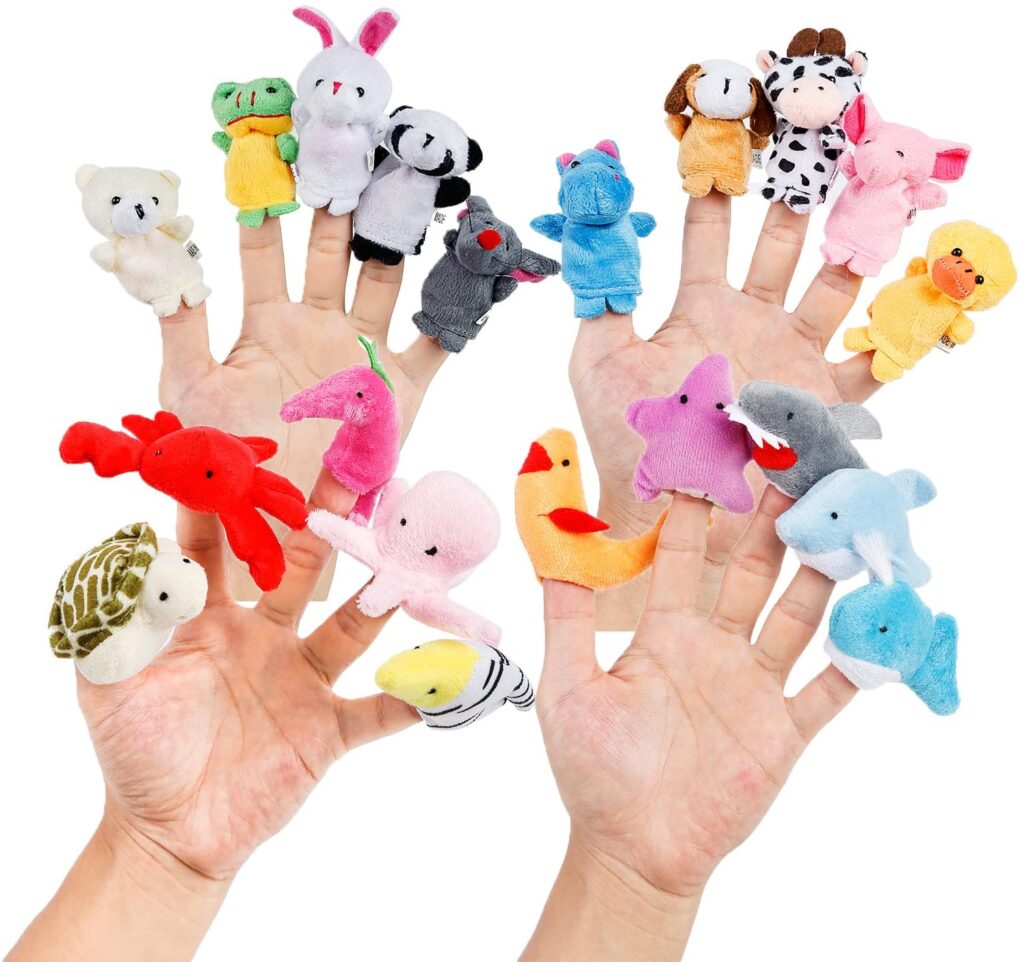 The Color Wonder products are markers that only become visible when used on the Crayola coloring books and blank pages. Regarding zero-mess coloring, Color Wonder gives your children the most options and creativity imaginable.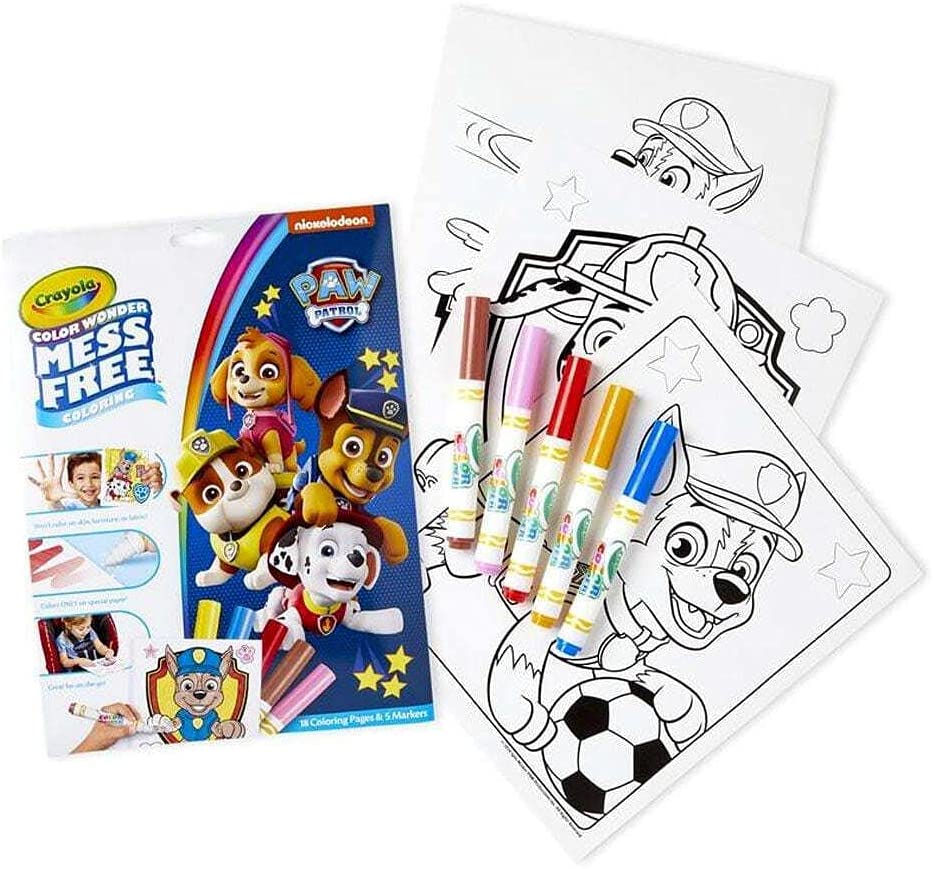 Card games are a great option for traveling with little ones. The best cards to bring on the road are flashcards because they're easy to pack and kids can learn while playing. You can help your toddler learn numbers, colors, letters, animals, shapes, and more! Flashcards for babies are usually thicker and slightly larger than standard playing cards, so they are not easily lost.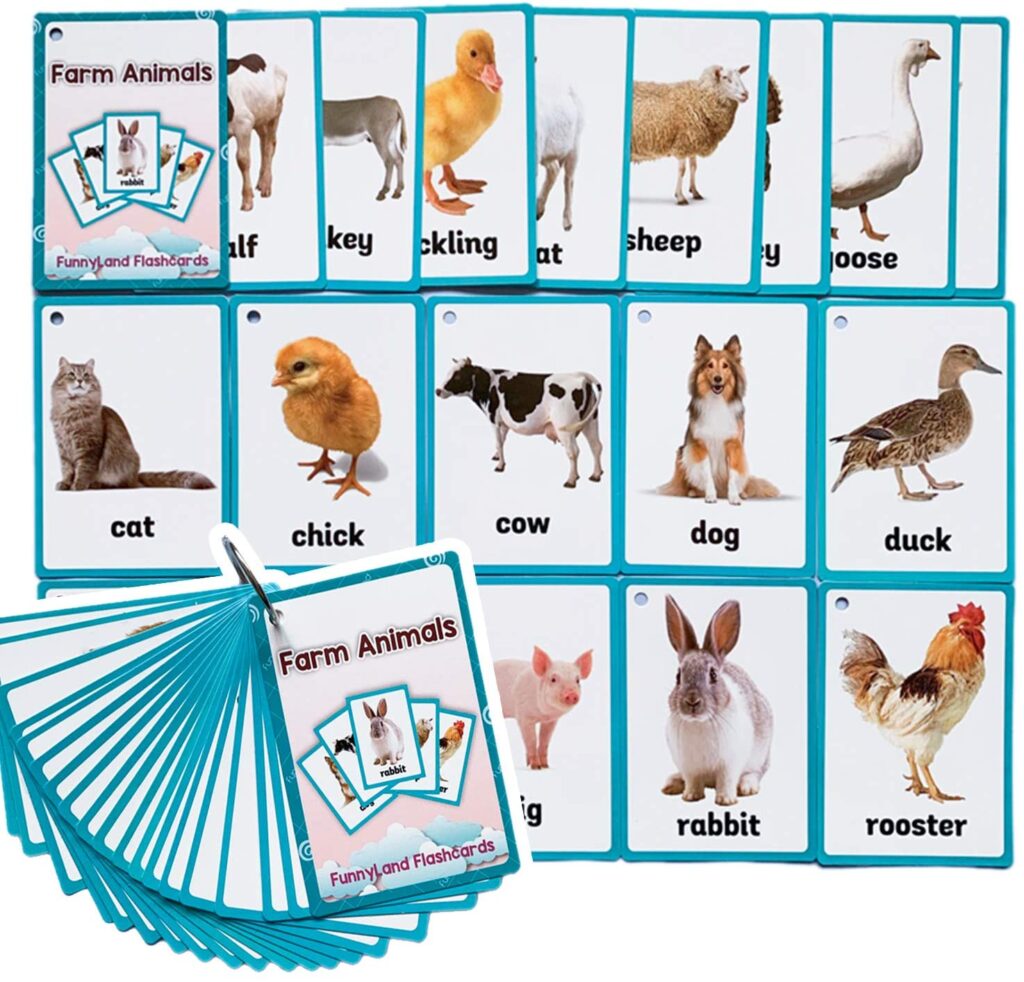 Reusable drawing pads are one of the best baby toys for airplane travel. It's a coloring book that can be reused over and over again! The best part is, it never makes a mess. All you need to do is wipe off your child's drawings with a tissue or baby wipe; they have an entirely new page to draw on!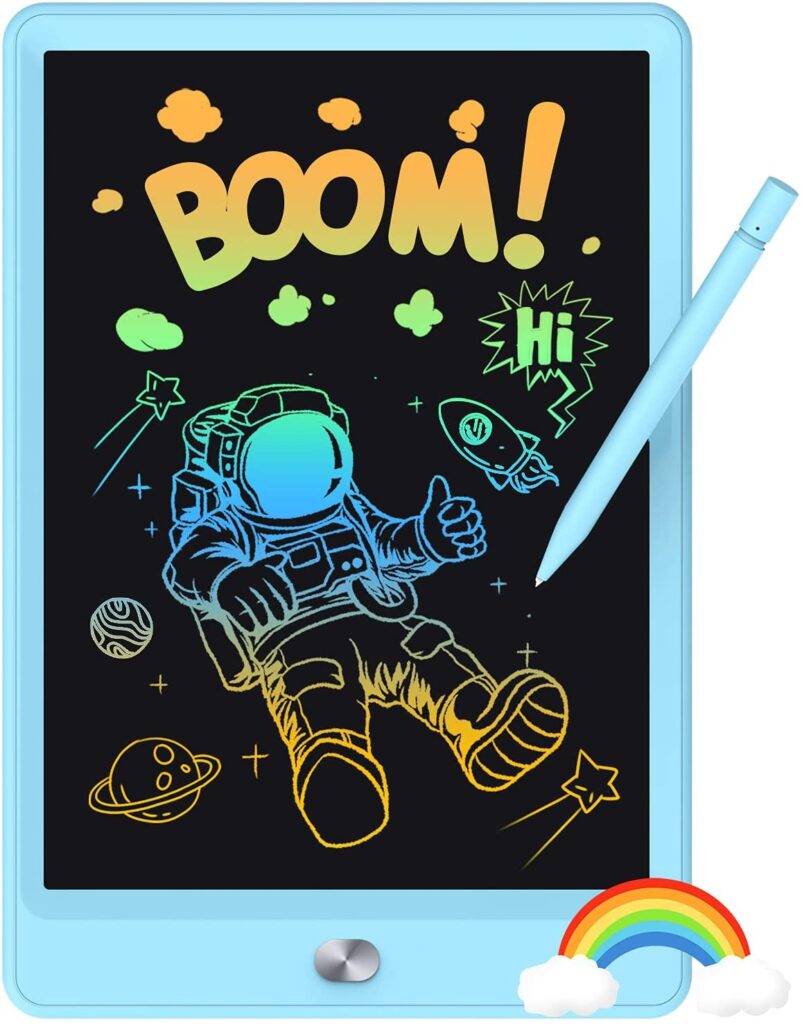 With this shape sorter travel toy, babies will spend time sorting shapes, exploring flaps and wavy textures, and admiring different colors. It's simple yet effective, and it's perfect for helping babies improve their hand-eye coordination while having a lot of fun. This is one of the best travel toys for 10-month-old babies or toddlers.
The Importance of Fine Motor Skills
Fine motor skills are making precise movements with your baby's hands. These skills develop when the baby is still in the womb and throughout life. Many of the suggested toys above can help your baby develop their fine motor skills.
These baby toys for travel can help your baby develop their fine motor skills by:
Developing hand strength and coordination.
Developing visual tracking (the baby's ability to see, understand, and follow an object with their eyes).
How to promote fine motor skill development in babies?
Allow baby plenty of time for play using their fingers, such as finger painting or playing with small toys that require dexterity.
Give baby opportunities to grasp and hold onto objects, such as balls, rings, or small boxes.
Help baby develop a pincer grip by providing them with things like soft blocks, clothespins, or toothpicks to manipulate
Encourage babies to use their hands in purposeful ways by giving them slightly challenging tasks, such as transferring objects from one container to another or picking up small pieces from a designated spot.
Provide baby with interesting materials to touch and explore, like different fabrics, textures, and surfaces.
Baby Travel Toys: How many toys to bring on a plane?
We know it can be hard to decide which baby travel toys are best for your baby. But traveling with a baby should be an enjoyable experience, and these baby travel toys will help keep them entertained throughout the flight!
You'll want to bring at least a few baby travel toys in your carry-on bag. Babies can get bored quickly, so it's always better to have more baby airplane toys with you than not enough!
Final Thoughts
All or some of these toys can be easily packed in your carry-on. Don't forget your snacks and drinks for both baby and parents for a stress-free flight!