This post contains affiliate links. As an Amazon Associate and member of RewardStyle, I earn from qualifying purchases. Please visit our privacy policy for details.
Small half bathrooms and powder rooms can be a challenge to decorate. You want to make the most of your space but don't want it to feel cramped or cluttered. This blog post will give you ideas for how to decorate your small half bathroom using floating shelves, modern functional light fixtures, and storage space.
With a little bit of creativity, you can make your small bathroom feel bigger and more spacious!
How to Decorate a Small Half Bathroom
Floating Shelves
One way to decorate a small half bathroom is by using floating shelves; floating shelves are a great way to add storage without too much space. You can use them to store towels, toiletries, or even decor items. Just be sure not to overload the shelves so that they appear cluttered.
Display your style with this set of actual floating shelves. The shelves come with brackets that are invisible when installed. Each piece is its creation with rustic character.
A streamlined, space-saving storage and display solution, this floating wall shelf can be topped with framed photos in the den or used to store toiletries and cosmetics in the powder room. Crafted of manufactured wood in a classic finish, this shelf strikes a clean-lined rectangular silhouette. In addition, this shelf arrives ready to hang right out of the box with wall-mounting hardware.
Decorate the walls in your home office, laundry room, or small bathroom with this 2-piece floating shelf set. It's made from engineered wood and features a clean-lined, rectangular silhouette and neutral finish that complements your existing design decor. These shelves are ideal for organizing and displaying your framed photos, office supplies, or cleaning products. And while this set arrives pre-assembled, helping save you a few steps, it does require hanging hardware.
This corner shower shelf is made of premium space aluminum with a matte black finish. It's also anti-rust, protects from corrosion, is durable, and extremely stable. A well-thought-out design that removed any sharp edges and corners.
The functional and elegant design keeps your bathroom organized. Acrylic is easy to clean, and it is customizable for any bathroom needs. Floating shelves are an excellent option for tiny spaces. They not only can hold extra toilet paper, but you can also display small decorative accents such as flowers, wall art, or a candle. Floating shelves are an easy way to decorate bathroom walls without taking up floor space. Using the available space in a small powder room is super important!
Modern Light Fixtures
Another idea for decorating a small half bathroom is to use modern light fixtures. Light fixtures can help to make a small room feel more open and airy. Choose light fixtures that are sleek and simple in design. Avoid anything too fussy or ornate.
Create lighting with a custom feel with our Sculptural 3-Light Globe Sconce. With its globe-shaped shades, it's just the thing to add illuminating intrigue to your small bathroom.
A modern take on an industrial style comes in your choice of popular finishes. It's an ideal choice for the bathroom or powder room. It can be installed vertically or horizontally and looks just as good either way. Damp-rated and designed to withstand moisture, it's safe and perfect to use in the bathroom.
This 3-light elegantly designed and simple vanity lamp brings a modern style to your bathroom.
Use this sconce to illuminate your deck, entryway, or bathroom stylishly. The fluted glass shade adds a textural touch and comes in your choice of sleek metallic finish.
Smart Storage Space
Finally, another way to decorate a small half bathroom is by using storage space. If your half bathroom has a lot of space, consider adding a storage cabinet or shelf. This is the best way to keep the area organized and clutter-free.
Keep your bathroom essentials organized and within reach with this generous storage. Available in five finishes and made from durable steel to last years.
These are essential for keeping a bathroom tidy and saving space by stacking atop one another. Made from natural bamboo, these bathroom accessories have been built to last.
Wall Color Choice
The color of your walls can have a significant impact on the perceived size of your room. If you want to make a small room look bigger, there are a few colors that you can use to create the illusion of space.
Light Colors
Light colors are always a good choice for making a small space appear larger. Of course, white walls are the most obvious choice, but other light hues like pale blue and green can also work well.
If you're not ready to commit to painting your walls white, you can also try using light-colored wallpaper or accent walls.
Dark Colors
When used correctly, dark paint can give a room a sense of drama and sophistication. Plus, it can make even the most cramped space feel luxurious and inviting.
If you're worried that your space is too dark, consider using a high-gloss finish, which will reflect light and help brighten the room. Or, try adding some light-colored accents to balance out the darkness.
Whatever approach you take, dark paint is a great way to add drama and depth to any small space.
Pro Tip:
Another trick is to use mirrors to reflect light and create the illusion of more space. Strategic placement of mirrors can also make a room look taller or wider. By using a combination of light colors and strategic placement of mirrors, you can give any small room the appearance of being much larger than it actually is.
Small Bathroom Sinks
Adding a pedestal sink or a wall-mounted sink to your small bathroom can make a big difference in terms of both style and function. Unlike a vanity, a pedestal sink takes up very little floor space, making it an ideal choice for a tight bathroom.
In addition, the open design of a pedestal or wall-mounted bathroom sink can help make your small bathroom feel more spacious. And because there are no cabinet doors or drawers to clutter up the space, a pedestal sink can also help give your bathroom a tidy and streamlined look.
Plus, with its sleek lines and classic style, a pedestal sink is sure to add a touch of elegance focal point to any small bathroom. Wayfair has plenty of great options for small bathroom sinks. 
The Chateau Wall-Mounted Sink is a show-stopping piece to enhance any bathroom setting. This sink's sleek yet compact silhouette is great for maximizing space. Pair the Chateau with any of our standard faucets and non-overflow pop-up drains to complete your bathroom.
Conservative design and contemporary style come together in ALPHAUCET's Vanity. This luxurious piece features a ceramic basin top upon a Matt Black frame. One drawer design offers space for make-up or decorative items. You'll also love the matching LED mirror that provides soft illumination for your personal routine.
Hand Towels
When you have guests over, the last thing you want them to deal with is a musty, old hand towel. But finding the perfect hand towel for your spare bathroom doesn't have to be complicated. Look for a towel that is both absorbent and soft to feel good on your skin.
You'll also want to ensure that it matches your bathroom's style. For example, if your bathroom is traditional, look for a hand towel with classic colors and patterns. If it's more contemporary, opt for a towel with a modern design or a solid pop of color. And don't forget to choose a size appropriate for the space.
A small hand towel is perfect for a half bath, while a larger one will be more suited to a full bath. With some planning, you can find the ideal hand towels for your spare bathroom.
These incredibly fluffy Luxe Fibrosoft™ Towels rival those found at any five-star hotel or spa. Each of these extra-soft, highly-absorbent, and quick-to-dry towels is made from 100% organic, long-staple cotton in the Aegean region of Turkey.
It was made to mimic a Turkish weave, with minimalist stripes front of this black and grey hand towel. Backed in solid cotton terry, it's extra absorbent, too. CB2 exclusive.
Decorative Accents
Tactile stoneware accessories add a modern touch to the bath with a surprising surface of black rubber. Matte exterior contrasts glossy interior, keeping things neat from floor to sink.
Ribbed glass goes around these modern bath accessories, topped in polished nickel for an elevated mix. CB2 exclusive.
Wallpaper
Neutral wallpapers can make a tiny bathroom feel larger by instantly creating a bright and airy feel in a room. The best part is wallpaper comes in designs from every interior style!
Houseplants
I have an entire blog post dedicated to houseplants that can live in your bathroom.
Houseplants are a great way to add some life and color to any room. They're perfect for bathrooms because they help filter the air, absorb moisture, and reduce allergens! These plants will thrive in these conditions and look fabulous while doing it!
They are extremely versatile and require no special care; Pothos tolerate low light but grow well in all types and prefer moist soil. Because it can grow quite rapidly, hanging it from a shelf or ceiling allows the vines to trail down and grow naturally. Buy yours HERE. 
Formally known as the Sansevieria, the Snake Plant is an excellent choice for any home environment, especially a bathroom, due to its adaptability. Buy yours HERE. 
A Shiplap Wall
Shiplap walls have been gaining popularity in recent years, and it's easy to see why. This type of wall features wide boards fitted together with a simple tongue-and-groove system.
The result is a rustic yet refined look that can add charm to any space. Shiplap walls are also relatively easy to install, making them a great DIY project. And because they don't require special tools or materials, shiplap walls are also very budget-friendly. So shiplap walls are a great option if you want to add some character to your home or simply want a stylish and affordable way to update your space.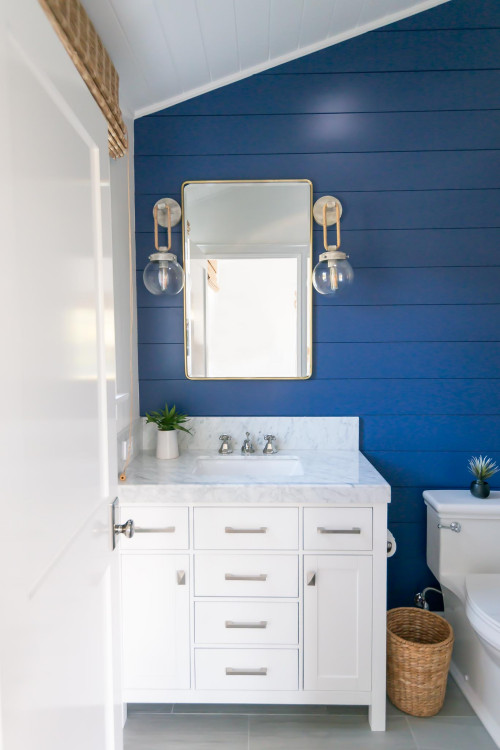 How to Choose the Perfect Bathroom Mirror
When it comes to choosing a bathroom mirror, there are many things to consider. Size, shape, and style are all important factors, but what about the type of mirror? Do you want a standard glass mirror or something that is more decorative? In this blog post, we will discuss the different types of mirrors available and help you choose the perfect one for your bathroom!
There are three main types of bathroom mirrors: standard glass, decorative, and frameless.
Standard glass mirrors are the most common and can be found in most homes.
They are typically made of float glass, which is a type of glass that is produced by floating molten glass on top of a bed of molten metal.
Decorative mirrors are unique and can add a touch of personality to your bathroom. They are often made of stained glass, beveled glass, or etched glass. Frameless mirrors are exactly what they sound like – mirrors without frames! They are growing in popularity because they offer a clean and modern look.
Now that you know the different types of bathroom mirrors available, it's time to choose the perfect one for your space.
If you have a small bathroom, a standard glass mirror is probably the best option. If you want to add a bit of personality, go for a decorative mirror. And if you're looking for a modern look, frameless mirrors are the way to go.
No matter what type of mirror you choose, make sure it fits your style and the overall design of your bathroom.
Modern & Elegant design with acrylic lighting all around, the BV model will be a special choice for your bathroom design with a touch sensor switch and dimming function, which makes your daily life much more convenient.
Striking, modern, round design makes a statement over any vanity or on any wall in your home.
Conclusion
I hope you enjoyed reading through these half-bathroom ideas. Are you remodeling or updating your powder room decor? Tell me about your small bathroom ideas in the comments!