This post contains affiliate links. As an Amazon Associate and member of RewardStyle, I earn from qualifying purchases. Please visit our privacy policy for details.
This post is for bloggers looking to amp up their traffic and passive income through ads and affiliate links. I grew my Pinterest monthly views from 4k to over 7 million in just 2 months with Tailwind!! I also was able to reach nearly 30k followers in less than 12 months! These monthly Pinterest views and followers directly correlated to more website traffic which means more ad revenue and affiliate sales that increased by 300% in just a few months!
I am sharing screenshots of my progress in hopes to excite and encourage other bloggers. Earning a solid passive or fulltime income from your blog is possible!
I am a busy business lady. I don€™t have time to be on my Pinterest App all day and I know you have a life too and can€™t be spending all day on Pinterest, either. So, how do I maximize my time on Pinterest and get more traffic to my websites?
Pump the breaks for a minute; Truth Bomb!
I used to be a Pinterest marketing skeptic. Yup! I was a non-believer!
But then I looked into Tailwind. I subscribed to their newsletter, read about it, talked to my other blogger girlfriends, and gave it a try. I can now truthfully say, My favorite Pinterest Scheduling tool is Tailwind. 
Tailwind has enabled me to share my houseplant & doggy loving content with thousands of women (and men)! I've been consistently averaging about 400+ new followers a week and I reach 6 million monthly viewers and have over 19k followers which help me reach over 100,000 blog page views every single month! 
These are my personal results, but Tailwind also publishes the Typical Results of Tailwind Members every year, so you can see exactly what the average growth rate looks like for their members.
Take a look at these screen-shares:
My screen-shares above shows May of 2019 when I reached 5.7 Million Viewers per month which directly influenced the amount of traffic I got to my blog.
Below that is July of 2019 when I hit 7.2 Million Viewers per month. I am so thankful for Tailwind helping drive quality traffic to my website.
SCREEN SHARE UPDATE May 28, 2020: As you can see my #1 pin is doing very well even after several years. And, you can see how amazing creating video content is because it performs very well on Pinterest and converts to page views for my blog. 
Take a look at my blog traffic for January through Mid July 2019. You can see the spikes in views over the last several months since using Tailwind. I credit my spike in direct traffic from Pinterest to my blog on two things: 1) Creating Quality Content 2) Using Tailwind to help spread it to the world!
Here is a screen share showing my continued growth in traffic from July 2019 through May 27, 2020:
Here is an updated growth chart for the last 28 days from August 23, 2020: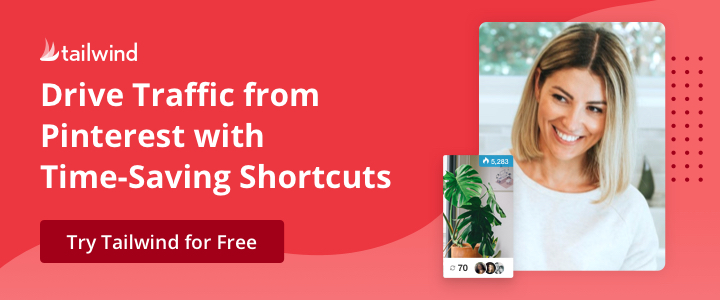 But Wait. What is Tailwind?
Tailwind is a Pinterest approved scheduling tool that allows you to schedule your pins. Instead of spending all day long sharing & re-sharing your blog posts, you can sit down, and in less than an hour, have scheduled out all of your pins for the entire week!
Keep reading because today, I'm going to share tips for using Tailwind, plus some of my favorite features that have completely convinced me that Tailwind is a MUST HAVE small business tool! 
Pinterest's 300+ million (and growing) active monthly users are more likely than users on any other social platform to follow links back to another website, whether they're looking for a recipe, interested in reading an article, or a potential B2B or B2C customer.
My favorite aspect of sharing content on Pinterest is that pins remain relevant for several months longer than the typical Facebook post or Tweet. When comparing Pinterest to Instagram, I love that Pinterest gives me the ability to easily add & embed links forwarding viewers directly to my website.
I am a firm believer that if you're an entrepreneur looking to leverage the power of Pinterest to monetize your website or business, there is no better system than Tailwind. You can try it for Free for 30 Days!!
Top 5 Reasons I use Tailwind to Grow My Business
1) SET IT AND FORGET IT
Pinterest is unique to many other social platforms in that it rewards quantity. Pinterest best practices recommend posting fresh pins daily, and many successful users can easily post upwards of 50 pins a day! Using Tailwind to schedule your pins in advance allows you to keep your boards fresh while also saving you the time to keep creating great content worth driving traffic to.
If you want help managing your Pinterest & Tailwind Account I recommend Allison Lancaster. She is my incredible Pinterest VA and I am so thankful I was able to send off some of my workload to her!!
2) CURATING WITH CARE
In any social network, self-promotion only gets you so far. A successful brand also knows how to share content relevant to their audience. This is called content curation, and many social media gurus recommend using it as a tool to build an audience, engage with the community, and establish authority. Tailwind makes this task easier than ever by making it easy to pull pinnable material straight from your favorite sources and RSS feeds, and can even recommend images and viral content that fits your chosen topics.
3) ANALYZE THIS
Time is one of your most valuable resources. Knowing how to spend it effectively is one of the major keys to online success. The analytics and reports that Tailwind can provide for your business can help to identify what your Pinterest audience is most receptive to, what other Pinners are sharing from your boards and homepage, and what kind of content will be most successful in the future.
I love reading my analytics each month because I can see which Pins are working well. Then I like to figure out what about that Pin is making it perform well; is it the font, the wording, the content itself, the caption, the time or frequency I pinned it, or the image.
Being able to track my results, allows me to know what's working so I can deliver more Pinterest content my audience loves!
For example, right now my most popular pin is for my blog post; 10 Houseplants That Need (Almost) Zero Light. This blog post was getting some traffic, but then I changed the image and updated the caption for what was being pinned on my Pinterest boards and it went viral within a few days! This single blog post enabled me to make enough money to put a down-payment on our new Audi.
4) WE MEET AGAIN
They say once something is online, it lives forever. Even so, with Pinterest receiving 1 billion new pins every day, it's important to keep your content fresh and upfront in your target audience's feeds. Strategic reposting and repurposing is an important part of social media success. If your evergreen content is worth being discovered, it's worth being rediscovered. Tailwind's SmartLoop creates a library of your most successful pins and redistributes them at the times your audience is most likely to see them. This new addition to Tailwind helps me squeeze more website hits from my Pins in less time than ever!
5) NEVER WALK ALONE
Even in business, no one is an island. Forming partnerships allows brands to extend their reach farther and find a community of like-minded consumers. Pinterest has a group feature, but Tailwind Tribes have taken that concept to the next level by making it easy to find the influencers in your given niche and share content with each other without leaving the platform. Tribes are such a great way to meet bloggers, other entrepreneurs, other influencers, and even find new brands to love!
These are only a few of the advantages that using Tailwind can provide your business, but keeping your Pinterest boards fresh and well-curated will ensure that they continue to direct traffic where you need it to go!
I am so excited to hear how using Pinterest with Tailwind has helped or changed your business and/or influence!
Feel free to share your experiences with Pinterest; start the conversation with me on instagram, @house_fur.